Pharmacy First Winter Ailments Service
Pharmacy First Winter Ailments service will be provided in community pharmacies from 2nd November 2020 until 31st March 2021.
---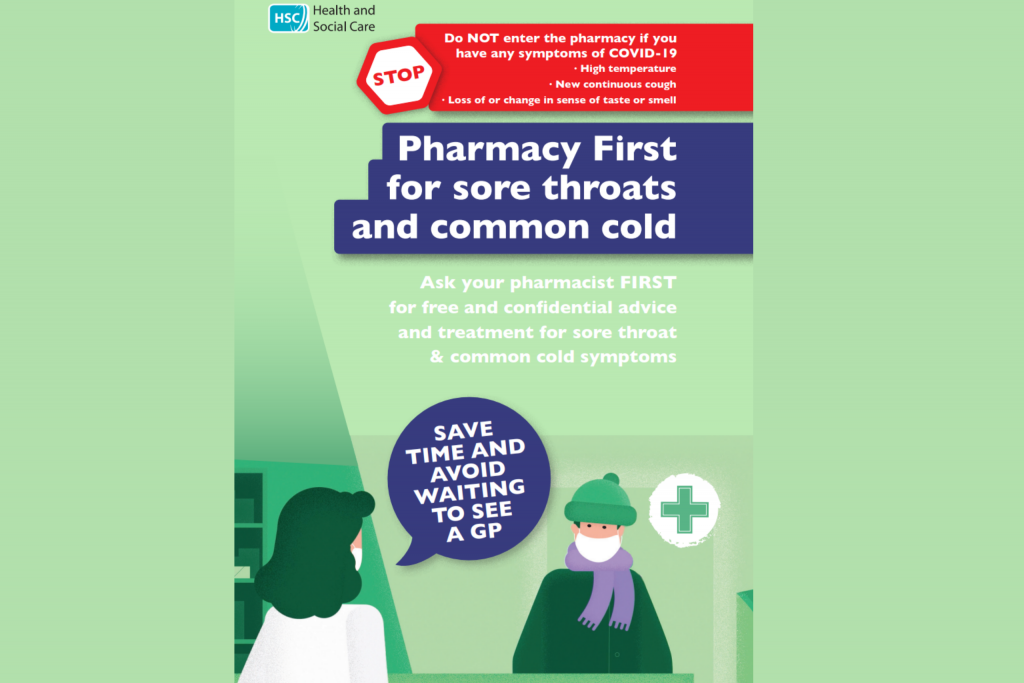 ---
**Patients with symptoms of COVID 19 should not present to the pharmacy **
---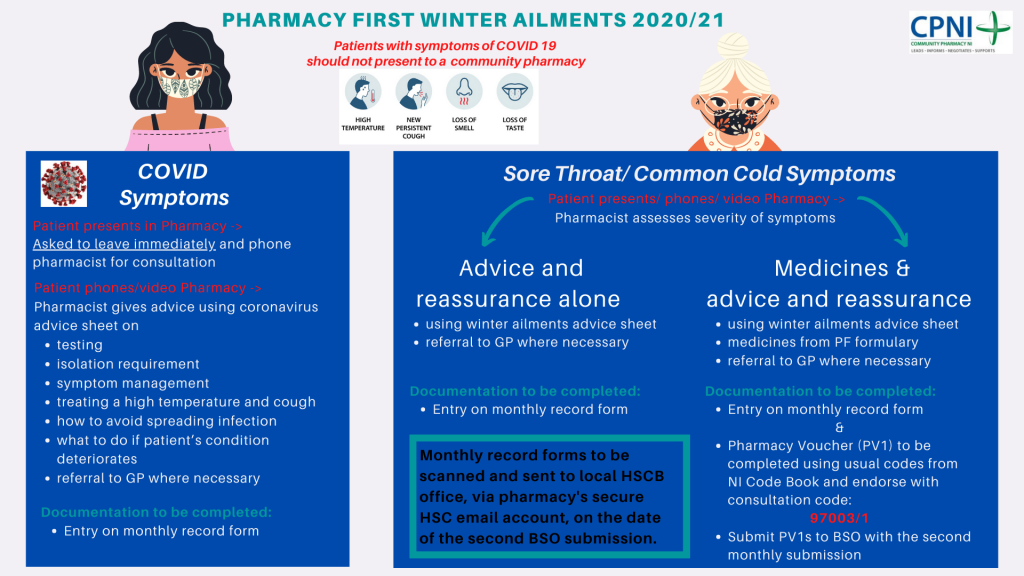 CPNI Support training for service providers
Background
---
Many GP consultations are for conditions that could potentially be self managed. These common conditions are often self-limiting and require little or no medical intervention, such as sore throat, colds and flu-like illness. Many people who consult GPs for common conditions could be dealt with effectively by a community pharmacist. Pharmacists are trained to deal with common conditions; offering advice, recommending over the counter (OTC) products or referring patients to other healthcare professionals as appropriate.
A Pharmacy First Service is a service whereby patients are encouraged to consult with a participating community pharmacy rather than their GP for a defined list of common conditions. The pharmacist will give advice and (if appropriate) supply medication from an agreed formulary or refer the patient to the GP if necessary. Medicines, when deemed necessary, are supplied free of charge.
Research from the Proprietary Association of Great Britain (PAGB) shows that up to 40% of GP time is taken dealing with patients suffering from common ailments. The first common conditions that may be managed via the Pharmacy First Service are sore throats, colds and flu-like illness.
The aim of the Pharmacy First Service is to displace activity, including consultations, advice and generating prescriptions for common conditions, from general practice to a community pharmacy-based service.
The objectives of the 2020/2021 service are to:
Reduce prescribing for sore throat and common cold and reduce the number of general practice consultations for these conditions.
Support the cost-effective use of medicines and health service resources in primary care.
Provide advice remotely to patient with COVID-like symptoms
Promote the role of the community pharmacist as the first port of call for the management of these conditions.
---
PHARMACY FIRST SERVICE FOR SORE THROATS & COMMON COLDS WINTER 2020/2021
Pharmacy First Service – Winter 2020/2021 ( 26th October 2020 )
Pharmacy First Winter Ailments Service Guidance
Pharmacy First Winter Ailments Service Specification
Pharmacy First Winter Ailments Contract – to be signed an returned to your local HSCB office before commencing the service.
Pharmacy First Service Privacy Notice
Pharmacy First Sore Throat and Cold Leaflet
Pharmacy First Sore Throat and Cold Poster A4
Pharmacy First Sore Throat and Cold Poster A3
HSCB Pharmacy First Training and Presentation Slides
Pharmacy First Winter Ailments Referral Form
Pharmacy First Monthly Record Form Version 2 – to be completed for every patient consultation, where advice and/or medication was supplied. To be submitted via the pharmacy's secure HSC email to your local HSCB office on a monthly basis, on date of second BSO submission.
Pharmacy First Press Release 13th Nov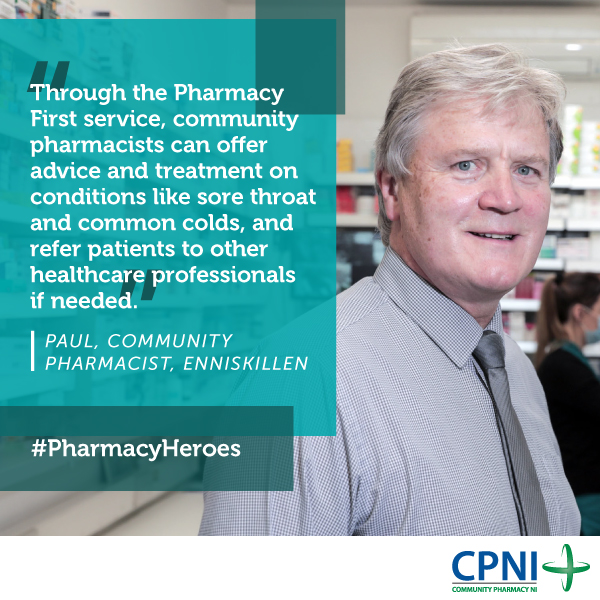 ---
Video Conferencing – ZOOM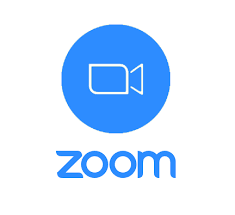 ---
Contact Details for Local (HSCB) Integrated Care Offices:
---