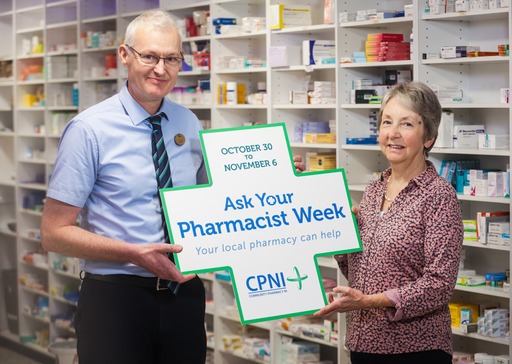 Community pharmacist heralded as lifesaving local hero after treating woman with near-fatal bee sting
This 'Ask Your Pharmacist Week', Community Pharmacy NI is raising awareness of the value of community pharmacy teams in the heart of the local community.
Moira woman Joan Johnston is backing the awareness week after surviving a near fatal bee sting, thanks to the quick-thinking of a local pharmacist.
After being stung by a bee on her scalp while in the garden, Joan noticed the first signs of an allergic reaction in the form of severe itching and redness which quickly travelled to affect her neck and ears.
She was advised by her GP to visit her local pharmacy, where the community pharmacist, Stephen Joyce, quickly administered life-saving antihistamine and an adrenaline injection while an ambulance was called.
Joan has hailed the quick action and professionalism of the pharmacy team in Moira as lifesaving and is backing 'Ask Your Pharmacist' Week to raise awareness of the clinical expertise and healthcare advice available in the heart of every community.
'Ask Your Pharmacist' Week is the National Pharmacy Association's flagship annual public awareness campaign for community pharmacy across the UK. This year the theme of the campaign centres on the pharmacy team and the extensive skill set of not just community pharmacists, but also pharmacy technicians, dispensary assistants, and delivery drivers who safely deliver patients' prescriptions each day.
Given the sustained pressure on all parts of the health service, Community Pharmacy Northern Ireland is also highlighting the value and contribution the community pharmacy makes.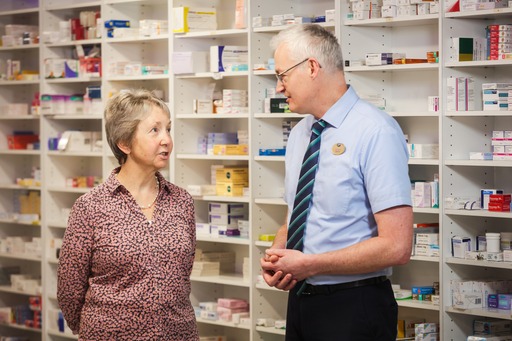 Gerard Greene, Chief Executive, Community Pharmacy Northern Ireland, said:
"As providers of primary care, we are acutely aware of the pressures being felt right across the health service at the moment with both GP appointments in high demand and Emergency Departments consistently overloaded. Joan's story illustrates how important community pharmacy teams are in providing patients with access right on their doorstep to highly trained teams of clinical experts in their community pharmacy.
I would like to commend Stephen and the team for their professional and swift response."
Joan Johnston added:
"The treatment I received from Stephen and the professionalism of the whole team was nothing other than lifesaving.
"What was just a simple bee-sting, quickly became something very serious. On arrival at the pharmacy on the advice from my GP, I was dealt with very promptly and Stephen was summoned and immediately took control of the situation. I was given an urgent antihistamine, but quickly started feeling lightheaded and faint. The pharmacy team assisted me to a chair and called an ambulance. I felt short of breath, dizzy, and began to lose consciousness, at which point, I was lowered to the floor and raised my feet to elevate my blood pressure. It was really frightening how quickly it got so serious. I was completely in their hands."
"Stephen administered intramuscular adrenaline, and my GP arrived to give me oxygen and an intravenous steroid. It was only after the incident when the details were relayed to me by my husband that I realised the outcome could have been very different for me".
"This 'Ask Your Pharmacist Week', I want to raise awareness of the vital services local pharmacies provide: they are highly trained clinicians and we shouldn't forget about the role they play. I am so grateful for the treatment that I received from Stephen and his team. Their expertise saved my life".
Stephen Joyce, Community Pharmacist, Boots, Moira said:
"With community pharmacy's accessibility, we treat and advise patients on a range of health conditions. At times, as in Joan's case, the situation can be much more extreme but not unusual. Community pharmacy teams across Northern Ireland are seeing and treating increasing numbers of often ''unseen' and often life-saving interventions.
I am just glad that we were able to help in what could have been a very different outcome had she not come into the pharmacy to see us.
Related Posts