Local pharmacists call on MLAs to help address funding crisis in community pharmacy
Father and daughter community pharmacy duo have briefed elected representatives on the current crisis facing community pharmacies across Northern Ireland at an All-Party Group Meeting held at Stormont.
Laurence and Laura O'Kane from O'Kane's Pharmacy in Draperstown told MLAs that community pharmacists need support to grapple with the workforce, workload and funding issues which threaten to close the doors of local pharmacies in the heart of the community.
They highlighted that although community pharmacists are eager to do more, provide additional services, and take pressure off the health service, the sector urgently needs support to meet rising costs, provide stability and develop the workforce for new roles in the future.
Community pharmacists have long campaigned for adequate and recurrent funding from the Department of Health to allow safe services to patients to be properly planned and resourced.
Elected representatives were also briefed by Community Pharmacy NI Chief Executive Gerard Greene and Chair Peter Rice who said that CPNI wants to work with the Department to address many of the issues that have affected the sector, including the funding shortfall, providing the necessary stability needed to underpin the current service and build the service going forward.
Speaking to MLAs at the meeting in Stormont, Laurence O'Kane from O'Kane's Pharmacy in Draperstown said:
"Community pharmacy is at crisis; it is at a point at which in my 37 years as a pharmacist I haven't experienced before. Our hands are tied as we try to deal with workforce issues, medicines shortages, rising costs and keep the doors of our pharmacies open for patients. We need immediate investment to not only help local pharmacies survive, but also unleash their potential".
Laura O'Kane added "We need to see more community pharmacists becoming Independent Prescribers as this would enable them to deliver more clinical services that would allow patients to see us first without the need to visit their GP. With the unique accessibility of community pharmacy, we see patients every day without appointment, many with long-term conditions. As a newly qualified pharmacist I want to do more to help manage these patients in the community and alleviate pressures across the health service, but we need the investment in our profession to make this happen".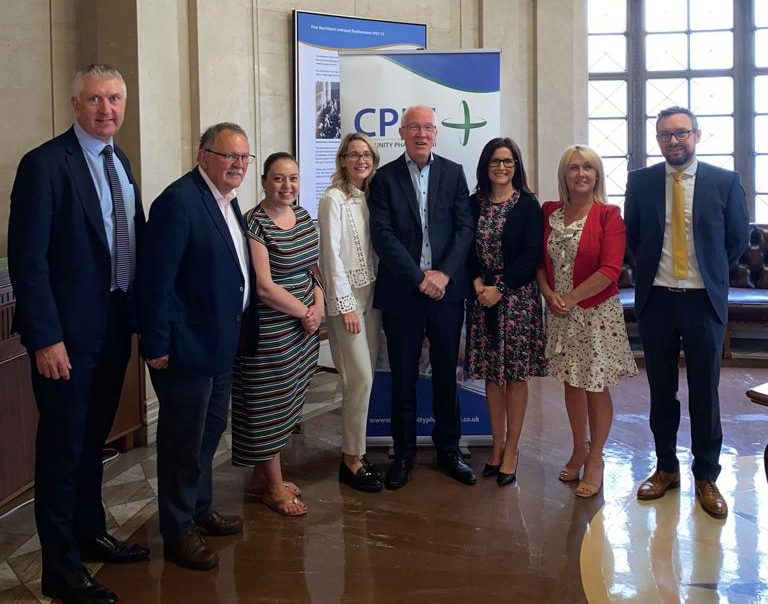 Gerard Greene, Chief Executive, Community Pharmacy NI, added:
"Community pharmacists are some of the most accessible healthcare professionals in the heart of the community, with over 123,000 people using community pharmacies each day in Northern Ireland. We have heard today that community pharmacists here are eager to do more to support their patients.
As the healthcare landscape and patient needs continue to evolve, community pharmacists are well placed and possess the clinical skills required to provide a range of services that can work to alleviate health and social care and GP pressures, solve primary care bottlenecks, and relieve the burden on secondary care.
However, for this to happen, we are clear that there must be an urgent injection, as was announced last week in Scotland where a £20m funding injection was confirmed. We urgently need stabilisation of community pharmacy funding and for the chronic systemic underfunding of the network to be addressed alongside plans that will see the development of the workforce. There is much potential, but a long way to go and we need the support of elected representatives to appeal to the Department of Health to turn all of this into reality".
Related Posts