Sinn Féin Vice-President Michelle O'Neill visits community pharmacy as Assembly election campaign continues
Sinn Féin Vice-President Michelle O'Neill has paid tribute to community pharmacists across Mid Ulster for their efforts in supporting local communities over the past number of years at a pre-election canvassing visit arranged by the sector.
The former Joint First Minister visited Donnelly McAleer Pharmacy in her constituencyto hear from a local community pharmacy team on the important role community pharmacy plays in communities such as Coalisland.
Workforce planning, community pharmacy's role in the transformation of the health service and making the most of the sector post-COVID were among the keys asks from lead pharmacist, Anne-Marie McGrath.
Sinn Féin Vice-President Michelle O'Neill said:
"I want to say a huge thank you to the team at Donnelly McAleer Pharmacyand all the community pharmacists across Mid Ulster and the North who have worked tirelessly for the last number of years under extremely trying conditions. Their role in meeting increased patient demands under unrelenting pressure has been immeasurable. Whether through the continued dispensing of medicines, the rollout of new services, or supporting our communities throughout the uncertainty of the COVID-19 pandemic, our community pharmacists have been there for all of us.
"As a former Minister of Health, I know that we have a dedicated and highly professional community pharmacy sector, but it is one that needs the certainty of long-term planning, investment, and resourcing. We know that there is work to do to rebuild our health service in the new mandate, and as valued members of the health and social care family, our community pharmacy sector will have an important role to play."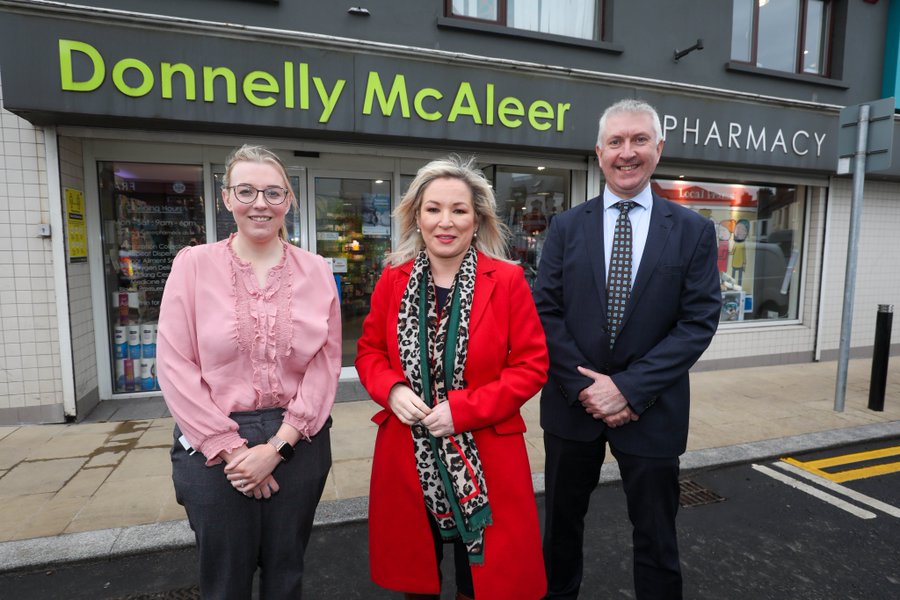 Community pharmacist, Aisling McKeeman said:
"This election is an opportunity to put transformation of the health service firmly on the Executive's agenda. The COVID-19 pandemic has totally changed how patients access healthcare and consequently, we have experienced an increased footfall and higher patient demand. To know that our team has been able to continuously meet these challenges and keep our communities safe is a huge source of pride.
"Today's visit was a timely opportunity to emphasise our message that community pharmacists can and want to do more. If given the appropriate support in the next mandate, we can continue to expand services, take pressure away from other parts of the health service and prevent patients from having to use secondary care. The next five years will be a pivotal moment for our health service and community pharmacy stands ready with solutions."
Related Posts