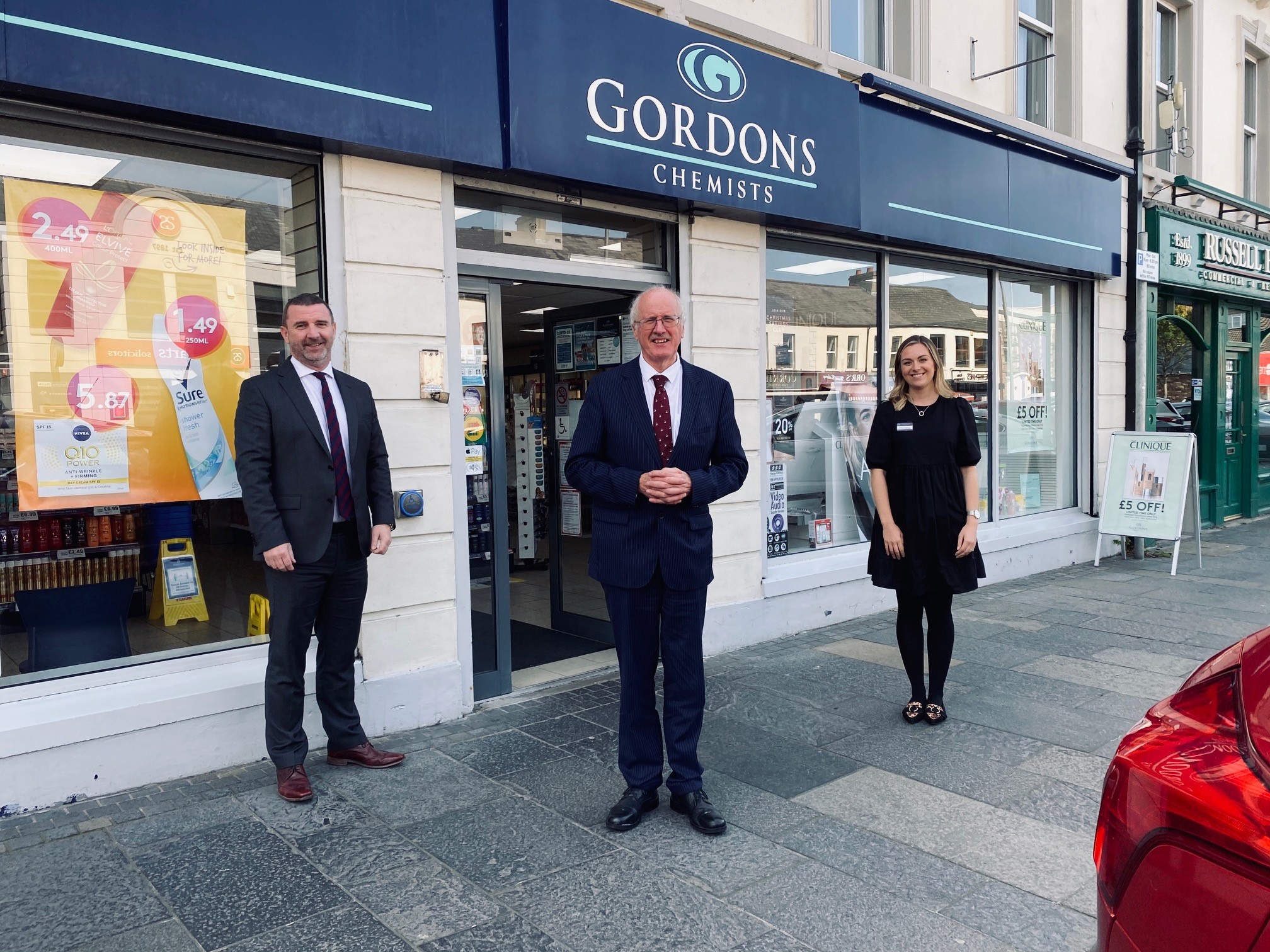 MP visit community pharmacy to hear of challenges faced during pandemic
Strangford MP Jim Shannon has thanked community pharmacists for their continued dedication during a visit to a Gordons Chemists in Newtownards.
John Clark, General Manager with Gordons Chemists welcomed Mr Shannon's visit on Friday to highlight the important role local pharmacists played in the safe supply of medicines and provision of professional medical advice during the first wave of the pandemic.
The MP heard how community pharmacies remained open throughout the crisis to ensure that patients were supported even at the height of the pandemic.
Mr. Shannon also heard about the development of new and existing services in local community pharmacies such as the flu vaccination service, emergency supply of medicines, smoking cessation services and the minor ailments service.
Speaking at Gordons Chemist, Jim Shannon MP said:
"I was very pleased to visit Gordons Chemists in Newtownards today to thank John, Melissa and the team for their commitment and hard work during the pandemic.
"Community pharmacy teams have played a vital role in public health from the very beginning of the pandemic. They stood-up to the pandemic to provide primary care, ensuring essential medicines were delivered and access to healthcare was available to all within the community.
"The support provided by community pharmacies like Gordons will continue to be crucial as we move towards a second wave. Having these services available on our doorstep means the most vulnerable in our society can be cared for without having to attend their GP or other busy healthcare settings.
"The face-to-face nature of community pharmacy allows patients to know their pharmacy staff, making them feel safer and more cared for, especially in uncertain times like the pandemic. Our role now is to work with our community pharmacies to ensure they are supported in the long winter months."
Melissa Ferguson Pharmacy Manager from Gordons Chemists said:
"We welcomed the opportunity to meet with Jim Shannon MP today and talk about community pharmacy's response to this health crisis.
"The pandemic meant the day to day routines of our team needed to change, with longer hours, new services and the implementation of new procedures to protect both the public and our staff. Thanks to the dedication and commitment of our team, we were able to remain open for the duration of the first wave.
"Our team adapted quickly, understanding our role was to ensure the safe supply of medicines and advice to patients at all times, so that they could manage their conditions at home and keep further pressures away from our hospitals as much as possible.
"The winter months will mean a further demand of much needed community services including flu vaccination, which will be essential in protecting our NHS staff and the public. Therefore, careful planning and the continued accessibility of these services will be vital in the protection of the health and wellbeing of our communities this winter."
Related Posts