Community Pharmacists step up to support under pressure HSC system with launch of Pharmacy First
Community pharmacies across Northern Ireland will provide a Pharmacy First service again this winter, encouraging patients to contact their local community pharmacy for help with everyday health conditions, including common winter ailments.
The Pharmacy First service enables patients to have a consultation virtually or in a private area with their local community pharmacist. Each month over 10,000 consultations for minor ailments take place in our community pharmacies.
Many common winter conditions can potentially be self-managed. These often require little or no medical intervention. Many people who consult GPs for common conditions could instead be assisted by a community pharmacist.
Pharmacists can offer advice and treatment for a wide range of common conditions. These include winter health conditions like common colds to everyday health conditions such as head lice, athlete's foot, diarrhea and hemorrhoids. If necessary, pharmacists can refer patients to other healthcare professionals as appropriate.
Patients can call into a community pharmacy for a consultation, but for infection control purposes, it is preferable if they ring the pharmacy first for advice. They can then have a consultation with the pharmacist over the phone, a video call or go to the pharmacy in person.
Remote consultations will also be available for those who are vulnerable, and those isolating due to COVID-19, who are unable to get medical advice for winter and COVID care.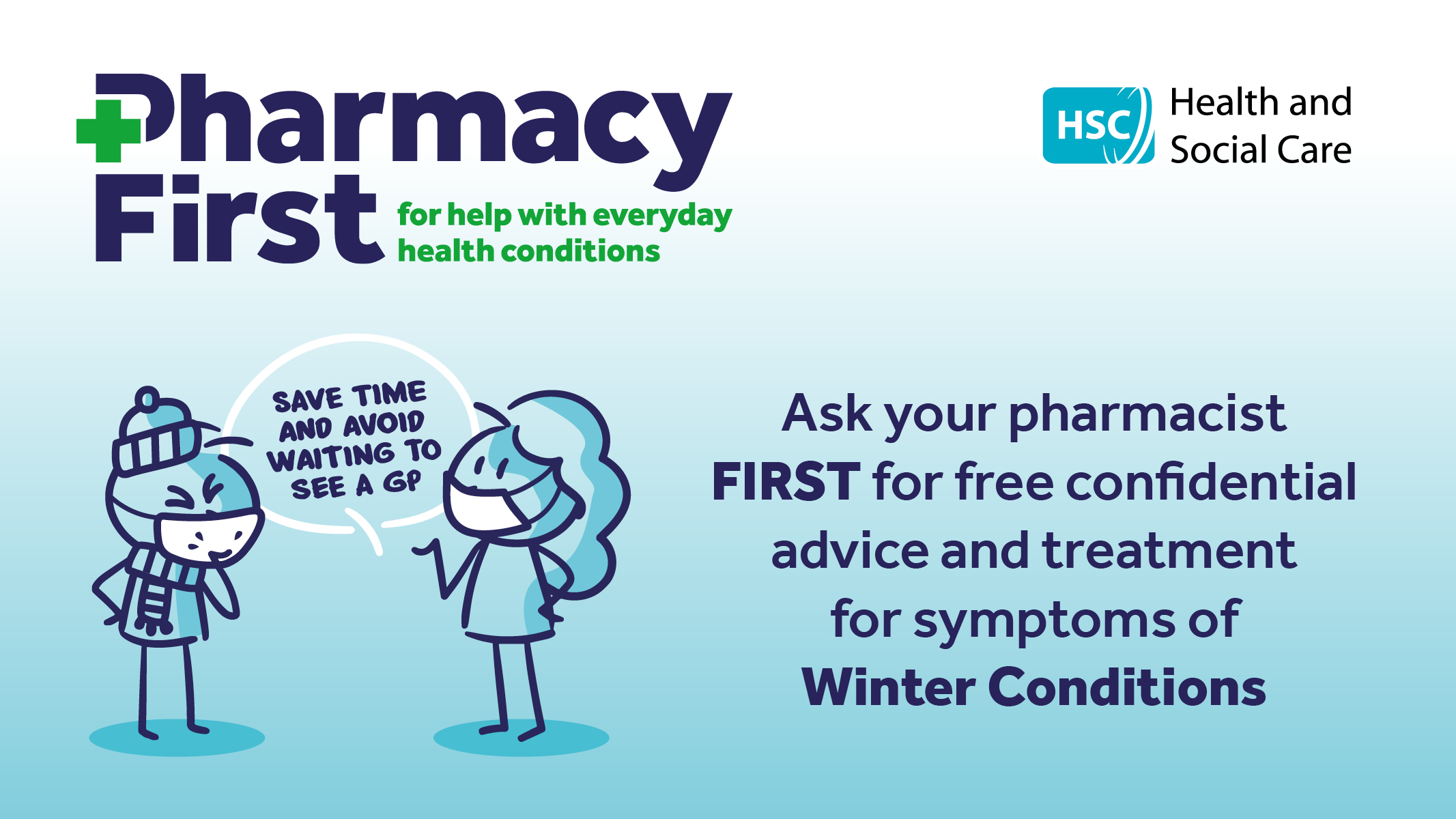 There is overlap between the symptoms of COVID19 and those of other winter conditions such as; sore throat, headache, myalgia, sneezing, runny nose, cough, cold and other flu-like illness. Patients presenting to the Pharmacy First service with any of these symptoms may receive advice and when necessary medicines to alleviate their symptoms.
Anyone experiencing any COVID symptoms such as high temperature, continuous cough or loss of taste or smell should NOT go into the pharmacy.
The Pharmacy First service will be available from participating community pharmacies from 8th November 2021 until 31st March 2022. All patients registered with a GP in Northern can use this service, with the exception of temporary residents and patients living in nursing or residential homes.
Cathy Harrison, Chief Pharmaceutical Officer, Department of Health said,
"Community pharmacists are the first point of contact for many people in need of healthcare advice and support, with nearly 10% of the population visiting one of our community pharmacies every day. Community pharmacy teams are now developing their role as an integral part of the Health Service, and are delivering a range of services. The Pharmacy First' service will offer people the opportunity to readily access a consultation with a highly trained healthcare professional for advice and treatment for everyday health conditions, and relieve pressures on other acute care providers such as GPs and Emergency Departments."
Joe Brogan, Head of Pharmacy, Health and Social Care Board said,
"Community pharmacists have played an important role throughout this pandemic and will continue to do so this winter. I would encourage anyone who has a minor ailment health condition like a sore throat or a cold to think Pharmacy First. Community pharmacists have the skills, expertise and experience to provide advice and treatment for a range of common conditions. This will help GP practices, GP out-of-hours services and Emergency Departments over the coming months when winter ailments illnesses occur more frequently."
Chief Executive of Community Pharmacy NI, Gerard Greene continued:
"The launch of the Pharmacy First service for everyday health conditions at community pharmacies comes at a time when the health service is under tremendous strain, and on course for further winter pressures. As a community health asset, community pharmacy continues to be front door to the health service, providing expert clinical assessments, advice and treatments to patients. The Pharmacy First service allows community pharmacies to manage health conditions such as sore throats and the common cold close to home and at a convenient time, benefiting the patient and easing some of the pressures being felt in other parts of the health service."
.
Related Posts