Community pharmacists used to be known as chemists. It is estimated that over half a million adults visit a community pharmacy in Northern Ireland each week.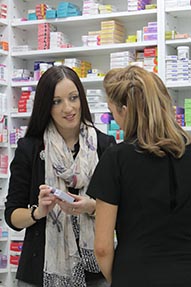 Community pharmacies can be found on the high street, at the heart of the most rural villages and in the centre of the most deprived communities. Many are open long hours when other health care professionals are unavailable. There are several different types and sizes of community pharmacies, ranging from the larger multiples to the small individually owned pharmacies. The traditional role of the community pharmacist as the white coat wearing healthcare professional who dispenses prescriptions written by doctors has changed. In recent years community pharmacists have been developing clinical services in addition to the traditional dispensing role to allow better integration and collaborative working with other health and social care providers; and more importantly to deliver better patient care.  Click here to find out more.
Community Pharmacy Access
Community pharmacists are easily accessible with around 535 community pharmacies in Northern Ireland located where people live, shop and work. The widespread location of the community pharmacy across Northern Ireland along with the extended opening hours means community pharmacy is readily accessible to the public. Community pharmacy provides a convenient and less formal environment for those who cannot easily access or do not choose to access other kinds of health service. Most pharmacies now have private consultation areas specifically for confidential or sensitive discussions and people can speak to a highly trained healthcare professional without the need for an appointment.
Community Pharmacy Services
Your community pharmacy is likely to provide many of the following services:
Dispensing – working to a prescription, pharmacists will provide you with your medicines labelled correctly following the directions of a GP or other healthcare provider who can write prescriptions (e.g. nurses, dentists or pharmacists). Information and advice to enable safe and effective use of the medicines supplied will also be provided. Each year community pharmacies in Northern Ireland safely dispense approx. 40 million prescription items.
Repeat Dispensing – this service allows patients with long term conditions to obtain repeat supplies of their medicines over a defined period of time from a pharmacy of their choice, without the need to contact their prescriber on each occasion a new supply is needed. This service is best suited to those patients with long-term, stable conditions that require regular medicines.
Disposal of Unwanted Medicines – if you have any medicines that you no longer use, you can take them to your local pharmacy for safe disposal.
Signposting to other Services – your pharmacy will provide you with contact details for additional support, advice or treatment if needed from other health and social care providers or support organisations.
Support for Self-Care – this service helps you to look after and care for yourself and your family. Your pharmacy will provide you with advice and support to enable you to obtain maximum benefit from caring for yourself or your family.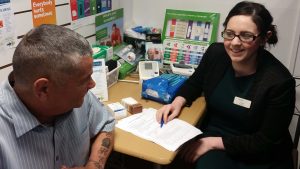 Medicines Use Reviews (MURs) – this review service aims to help patients to take their medicines more effectively by improving patient knowledge, adherence and use of their medicines. The pharmacist may also make recommendations to the prescriber following the review regarding the clinical or cost effectiveness of the treatment. This service has initially been commissioned for patients living with asthma, COPD and diabetes, it is hoped that this service will be extended to other long-term conditions in the future.
Smoking Cessation Service– this aims to support smokers who are motivated to quit through behavioural support and provision of nicotine replacement therapy, as appropriate, through a 12 week programme. Community pharmacy is the largest smoking cessation service provider in Northern Ireland, supporting nearly 70% of quit attempts every year.
Minor Ailments Service – this service supports the use of the community pharmacy as the first point of call for health advice. The pharmacist can use their professional skills to provide advice and if necessary, recommend appropriate treatment or refer to another healthcare professional. Click here to view a list of the conditions treated on the service.
Managing Your Medicines – this is a medication review service carried out for patients who are identified as vulnerable or at risk. It aims to optimise treatment by a clinical medication review, educate the patient to improve their understanding of the medication prescribed, support patients to ensure all medicines are used appropriately and liaise with other member of the healthcare team as required to support the patient.
Health Promotion – this will provide you with advice on keeping healthy; this could be advice on healthy eating, stopping smoking and exercise. You may be able to get leaflets and written information to help you make healthier choices. Your pharmacy will also take part in local health promotion campaigns such as taking care in the sun and understanding the risks of long-term conditions such as diabetes.
Local Services for Local People
As well as the commissioned services provided by all pharmacies, there are many different services that are operating throughout the country, reflecting the varying needs in different areas. Click here to find out about some of the examples of such services.
How are Pharmacists Trained?
The underlying principle for all pharmacy education and training is ensuring safe and effective care for patients. This principle underpins pharmacists' work throughout their undergraduate, postgraduate and continued learning and subsequent career pathway. Students undertake a four year Masters in Pharmacy degree course that teaches them about the origin and chemistry of drugs, the preparation and formulation of medicines and the actions and uses of medicines including physiology, biochemistry, microbiology, pathology and pharmacology.
After the degree course the student undertakes a one year placement working in a pharmacy under the supervision of an experienced pharmacist; this is known as the pre-registration year. At the end of this year they take a professional examination and those who successfully complete the examination are able to register as a pharmacist. Pharmacists continue to keep their knowledge up to date during their career by undertaking continuing professional development (CPD). It is mandatory that every pharmacist on the register submits their record of CPD to the Pharmaceutical Society of Northern Ireland each year for assessment in order to remain on the register.
A Day in the Life of a Community Pharmacist
The daily life of a community pharmacist is hugely varied, drawing on a wide range of clinical and non-clinical competencies and skills. Every pharmacy is required to be operated under the control of a 'Responsible Pharmacist'. Click here to find more about the daily tasks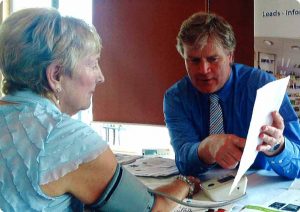 Questions you could ask your Community Pharmacist
A member of the community pharmacy team can help to answer questions you may have about your medicines and wellbeing, such as:
• I am taking medicines for a long term medical condition. Can you explain how they work and how I should manage possible side effects?
• I am concerned about my risk of having a heart attack or stroke. Can you give advice on reducing this risk?
• I would like to talk with someone about my sexual health, is that possible?
• Can I speak to a pharmacist in private, away from patients and pharmacy staff?
• Can you advise me on the most appropriate sunscreen for my family?
• I would like to give up smoking. Can you help me quit?
Pharmacy Support Staff
Pharmacists have supported their staff to train and develop to ensure that the extended role of the pharmacist can be achieved by having a team who are competent to support and deliver a safe and effective pharmaceutical service. Click here to find out about the different team members
The Future
There have been some significant developments in the world of pharmacy over recent years; one of the most significant has been changes in the law to allow pharmacists to prescribe. This has helped pharmacists to provide more dedicated care to their patients and to work more closely with GPs and other health professionals. The future will undoubtedly see more developments in community pharmacies across the country; the development of IT systems and additional services such as prescribing will all help to ensure that patients continue to get excellent care from their local community pharmacy.