Coding
The Business Services Organisation (BSO) website publishes the Prescription Code Book on a monthly basis.
This provides clear instruction on how prescriptions should be coded to ensure correct payment is made.
It is important that all members of the pharmacy team use the most recent version of the Code Book when coding prescriptions.
CPNI Factsheet 3 "Tips for Pharmacy Staff to Improve Prescription Processing at BSO" can be accessed on the members section of the CPNI website under the "Back to Basics" heading and provides some advice on coding and submitting prescriptions for payment.
CPNI is aware of a number of current coding issues around the quantity code which should be used to code inhalers, sprays, creams and ointments.
For example, some sprays and inhalers are coded by volume (120 dose, 180 dose) whilst others are coded by the number of sprays dispensed (1, 2 etc.). Creams and ointments are generally coded by volume and not by the number of packs dispensed. For example a 30g tube of cream, ordered as "1 original pack" (1 o.p) should be coded as /30.
There are some exceptions to this rule and contractors should refer to the Prescription Code Book.
CPNI encourages contractors to use the Prescription Code Book not only to obtain the code number for the product, but to ensure the correct quantity code is used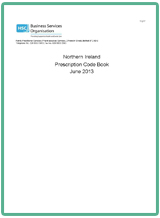 The Norther Ireland Prescription Code Book  can be accessed
here