Threat to vital health service will have negative and damaging impact to most vulnerable in society meeting hears
Over 100 local pharmacists from across Northern Ireland met in Belfast last night to express their real frustration and anger about the lack of progress by the Department of Health in addressing the funding crisis in community pharmacy.
The meeting was called in direct response to the fragile position the sector finds itself after five months of campaigning and engagement has failed to bring any certainty or clarity for the future.
The cost of providing community pharmacy services is currently under-funded "by at least £20 million" and around 90% of pharmacist respondents to a recent CPNI survey feeling the "current funding situation is having an impact on their own health and wellbeing", the representative body Community Pharmacy NI has claimed.
Many local pharmacists who attended the meeting also claimed that the paralysis in decision making will result in pharmacies closing and will reduce people's access to a vital health service, impacting the most vulnerable in society.
A direct appeal was made to Richard Pengelly, Permanent Secretary of the Department of Health to alleviate the problems and follow through with this commitment and release the funding to arrest the decline within community pharmacy.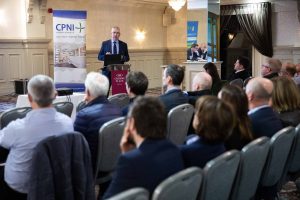 Gerard Greene, Chief Executive of Community Pharmacy NI commenting after the meeting said:
"The level of anger being directed towards the Department of Health is at boiling point. The contractors that we represent are adamant that this stand-off cannot continue."
"They are at breaking point as the realities of managing their businesses on a day to day basis, whilst serving patients and customers, is causing severe strain."
"The cost of providing the community pharmacy service is hugely underfunded due to a shortfall in what the Department of Health is willing to allocate, and the cost of keeping community pharmacies open.
"Some contractors have told us that they are ready to go out of business. This is unacceptable and must be urgently addressed." We are calling for clear and fair remuneration and reimbursement so that investment can take place to meet safety, quality and efficacy requirements. At present that just does not exist."
One leading Community Pharmacist, Paul Savage from Belfast added:
"Consistent underfunding means that myself and my community pharmacy colleagues everywhere cannot afford to keep normal stocks of medicines which shows how grave the situation is."
"It is completely unacceptable and unjust that we have been forced to subsidise the provision of an essential healthcare service due to this lack of funding."
"The year on year increase in workload of community pharmacists' means that they have still to undertake a combination of core dispensing, over the counter medicine supply and advice, wider community pharmacy services and employ a skilled workforce at the same time as the level of funding from government has, in real terms decreased."