Zero Tolerance approach to be taken for abuse and attacks carried out in Community Pharmacies
Community Pharmacy NI (CPNI) welcomes the Zero Tolerance campaign launched by the Health and Social Care Board (HSCB) and the Department of Health (DoH) in response to abusive behaviour and violent attacks against community pharmacy staff and other primary care health workers.
Recent attacks in community pharmacies have resulted in a number of pharmacists being stabbed and these types of attacks, as well as verbal abuse and threatening behaviour directed at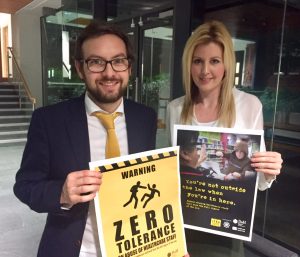 pharmacy staff cannot be tolerated.
Gerard Greene, Chief Executive with CPNI said, "Community pharmacies provide specialised advice and treatment on a range of health matters and both the profession and patients should be able to deliver and access these services in a safe and secure environment, without the threat of abuse or violence.
We need to reduce the risk of further incidents and the Zero Tolerance approach is part of a range of measures developed by the HSCB and DoH to improve community pharmacy safety and security. We look forward to the continuation of this work, which we hope will create a safer environment for both pharmacy staff and patients".
Speaking at the launch of the Zero Tolerance campaign, Joe Brogan, Head of Pharmacy, Health and Social Care Board, explained: "Abuse towards any member of staff should never be tolerated and we want to raise awareness of the abuse that is directed towards our staff, particularly those in primary care settings such as community pharmacies, GP practices, dental clinics and opticians.
"In the last six months, we have seen a number of attempted thefts, some of which have involved violence or threats of violence to community pharmacists. We want to be clear that abusive and violent behaviour towards front line health care staff is unacceptable and those who persist will be reported to the authorities."
Notes for Editors:
Following the review of security measures within community pharmacies, a workshop was organised for community pharmacy staff. The workshop included presentations from the PSNI about keeping staff safe during incidents, the need to record and report instances of verbal and physical attacks and the importance of carrying out regular audits and updates to security measures.
The Health and Social Care Board, worked with the Department of Health, Department of Justice, PSNI, Community Pharmacy Northern Ireland (CPNI) and the with NI Centre for Postgraduate Learning and Development to deliver the Zero Tolerance campaign and the workshop.