Arthritis Care NI and the Health and Social Care Board are delivering a series of chronic pain ma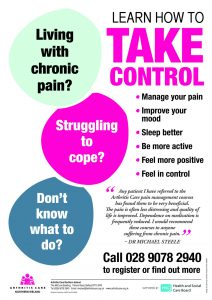 nagement courses.
These courses will help patients develop the skills and confidence needed to better manage their pain and feel more equipped to cope with daily life. Research shows that people who take part in a self-management programme experience less pain, depression, fatigue and anxiety than before.
The programme is a free weekly workshop of 3 hours held over 2 and 6 weeks in Belfast, Newtownards, Lisburn and Bangor and covers topics such as:
pain management
handling stress
better breathing & relaxation;
During the workshops, patients will meet other people who share similar experiences and who understand what it's like to live with long-term pain.
Referral criteria:
Chronic pain for a period of 3 months or longer
Willingness to participate in a self-management programme
Click here  to find out more about the courses and how to register