Calling all Bright Sparks…. Innovation Idea in the Health Area Competition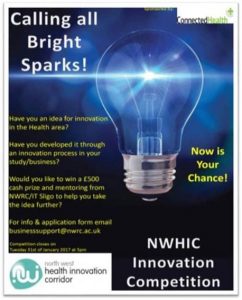 The North West Health Innovation Corridor (NWHIC) is the open innovation platform for health and social care solutions in the North West of Ireland.
The NWHIC is running an innovation competition, with a prize of £500 cash and 15 hours mentoring time, worth £1000/ €1200, that is open to students, entrepreneurs, businesses and groups who have developed or have an innovative idea in the health area.
Application forms can be attained by emailing businesssupport@nwrc.ac.uk and the closing date for applications is Tuesday 31st of January 2017 at 5pm.