A rural, family-run Fermanagh pharmacy that 'is the heart' of the Belcoo community has won a prestigious Northern Ireland Dementia Friendly Award for the work it has done to help customers with dementia, inspired by the experience of a staff member Bridgeen Melanophy
Belcoo Pharmacy won the Small and Medium Organisation of the Year at the Dementia Friendly Awards, run by Alzheimer's Society. Pharmacist Joe McAleer and Bridgeen Melanophy were presented with the award by Sarah Travers, an ambassador for Alzheimer's Society, at a ceremony at Europa Hotel, honouring organisations and individuals who improve their community for people with dementia.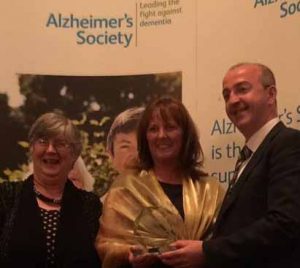 Belcoo Pharmacy, a family run pharmacy established in 2001 by pharmacist Joe McAleer, is the first Dementia Friendly Pharmacy in Fermanagh. Due to the very rural nature of the area – the local GP has moved out of the village with the closest surgery now 8 miles away – the pharmacy has now become an essential link in the chain of medical services within the region and is always aiming to extend the reach of public health provision.
The Pharmacy is very much at the heart of the Belcoo community, with customers popping in for a chat or advice and frequently bringing cakes and buns with them. They have always held coffee mornings that Joe's wife Kathy McAleer, who also works in the pharmacy, jokes will sometimes continue until closing time. So when staff member Bridgeen had to take time out to care for her father who had dementia, the community rallied baking for coffee mornings to raise funds for Alzheimer's Society.
Bridgeen's next step was, with Joe, to organise for Alzheimer's Society to deliver Dementia Friendly training for staff.
"The awareness input gave everyone a better understanding of the condition including the signs to look out for, how the progression of dementia is unique to the individual and how with help from organisations like ours people can continue to live well within the community," said Kathy.
Joe added that the training has enabled him to spot early signs of dementia in some customers who weren't yet diagnosed, and when appropriate to start conversations with those people about their symptoms.
Joe and Kathy said they would like to see other businesses in Belcoo join in to create a Dementia Friendly Community. "Perhaps next year we'll be back in that category with all the other businesses in the village, to see Dementia Friendly Belcoo win an award!" Kathy said.
"It's not hard to be a Dementia Friendly business," Joe said. He would encourage any business in Fermanagh to become dementia friendly, and encouraged anyone, including elected representatives, to become Dementia Friends.
"We have very few services for people with dementia in our area. If elected representatives – MLAs, MPs, MEPs, councillors – were to do the training, they would better understand why we need the services. Dementia isn't on their agenda and it needs to be. It affects so many people, and it's growing all the time," he said.
Bernadine McCrory, Alzheimer's Society Northern Ireland Director, said: "I want to congratulate Belcoo Pharmacy for winning the Dementia Friendly Organisation of the Year Award in the small and medium category. The contribution that they are making helps to make all our communities more supportive and inclusive for the 20,000 people in Northern Ireland living with dementia, and for their families.
"The standard of entries for the awards this year has been excellent, and we've seen a real array of different ways that people make a difference in their community. Anyone can become a Dementia Friend, which is the first step in knowing more about dementia and how to help a person with dementia. Our winners all took this first step and went on from there, whether it's school children, librarians, shop staff, care workers or bankers, they are all shaping a better future for people with dementia."
These are the second annual awards, celebrating people and organisations that have made an outstanding contribution towards improving the life and experiences of people with dementia and categories range from individuals to whole communities.
Dementia Friendly Communities support and empower people with dementia to maintain their independence for as long as possible through inclusion, awareness and understanding.