Around £18million per year is being wasted on medicines that are ordered on prescription and supplied from pharmacies but not used by patients, Health Minister Edwin Poots has revealed.
The Health Minister was speaking ahead of the launch of the annual 'Don't use it, Don't order it' campaign which aims to reduce the amountof medicines waste across the health service by encouraging everyone who orders prescri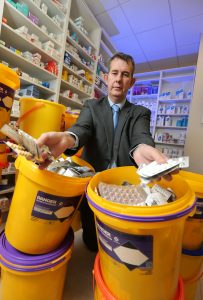 ptions to only order the medicines that they need.Speaking about the launch, the Minister said: "I am committed to helping people gain the optimal health outcomes from their prescribed medicines by taking them as directed by their doctor and pharmacist. However, each year in Northern Ireland unused medicines cost the health service an estimated £18million. Any medicine that you collect from the pharmacy, but do not use is considered to be a wasted medicine as you did not benefit from taking it and it cannot be recycled or used by anyone else.
"Ordering more repeat medicines than you need increases the chance that they will not be used. This campaign is reminding people to stop and check the medicines they already have at home before ordering more, especially at this time of year when they may be placing orders to cover the Christmas holidays."
The Minister continued: "Helping to reduce medicines waste is important as resources saved could be used in other areas. I would like to thank everyone in community pharmacies, GPs and the public who are to be commended for their continuing support in helping to reduce medicines waste."
For more information on medicines waste, visit: http://www.nidirect.gov.uk/prescriptions-dont-use-it-dont-order-it