Community Pharmacy NI (CPNI) and the Health and Social Care Board (HSCB) welcomed Community Pharmacists to workshops held recently at Antrim and Craigavon.
Community pharmacists from all over the province had the opportunity to discuss and debate Transforming Your Care, one of the most significant and wide-ranging health and social care reforms in decades.
Speaking at the event, Mr Gerard Greene, Chief Executive of CPNI, said: "These events enable pharmacy owners and community pharmacists to consider the Transforming Your Care proposals and the proactive role they as health professionals will play in developing the community pharmacy network that is fully integrated into Northern Ireland's evolving health service.
Community Pharmacy NI provides a key role in informing and engaging with pharmacy stakeholders in the development and implementation of the extended role of the community pharmacist.
By working in partnership with health and social care we can ensure that community pharmacists act upon this unique opportunity to utilise their skills, experience and facilities to deliver new services to improve health and well-being outcomes for the people of Northern Ireland."
The recommendations of Transforming Your Care represent a radical change to how health services are delivered in communities. The provision of the right care in the right place at the right time is a key principle of this change. Community pharmacists are well placed, as providers of effective local services for local people, to contribute to the prevention of ill health and to the achievement of better outcomes when ill health does occur thus enabling people to live healthily and independently for as long as possible.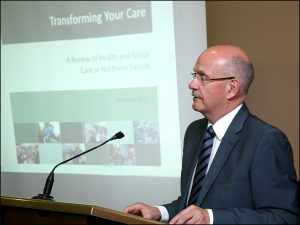 Chief Executive of the HSCB, Mr John Compton welcomed the contribution from community pharmacists attending the workshops: "As we move forward it is really important that we continue to implement change in a measured and considered way in collaboration with professional and clinical leads.
Health and social care impacts on every single person in Northern Ireland at some point in their lives. It is vital that community pharmacists, who provide valuable front line services to the public, have their say on how we design and deliver the pharmacy services of the future.
Going forward, the successful introduction of Integrated Care Partnerships relies on our community pharmacists working with doctors, nurses, social workers, other healthcare professionals, and, the voluntary and community sector to keep people well and to ensure they get the care they need, when they need it."
Integrated Care Partnerships are networks of health and social care providers joining together the full range of health and social care services in each area, including GPs, health and social care providers, hospital specialists and representatives from the independent, voluntary and community sectors, and, service users.
For further information from the events or to learn about the work of Community Pharmacy NI visit www.communitypharmacyni.co.uk or call 028 9069 0444. To find out more about Transforming Your Care and future changes in how health and social care is being configured and delivered visit www.tycconsultation.hscni.net or telephone 028 9055 3790.